Introducing the New Chevy Blazer EV in Cadillac, MI
Electric vehicles are becoming more popular each year, and for good reasons. They're more efficient than gas-powered SUVs, they produce zero emissions, and they're better for the environment. If you're in the market for a new SUV, an electric vehicle is a great option. Chevrolet has several great electric vehicles available, including the Chevy Blazer EV. The Blazer EV is a great choice for those who need a lot of space, as it has plenty of room for passengers and cargo. It's also a great option for those who want an SUV that's stylish and efficient.
Design/Interior
The new Blazer electric vehicles come with a variety of standard features, including climate control. The climate control system in the Blazer keeps you comfortable in any weather you encounter around Houghton Lake. It has several different settings, so you can find the perfect temperature for your needs. The system also includes a heated seat function, which is perfect for cold days.
The front seats are spacious and comfortable, and there is plenty of legroom and headroom for passengers in the backseat. The SUV also has a large trunk, which provides plenty of storage space for luggage and other belongings. Overall, the Chevy Blazer electric vehicle is a great choice for those who need a vehicle with plenty of space and comfort for driving around Harrison, MI. The Blazer EV is a two-row SUV. In the upper-level trims, a two-tone upholstery scheme is standard, typically in black and red.
2024 Chevrolet Blazer EV Performance Features
The all-electric Blazer draws power from a 200-horsepower electric motor and will have a driving range of up to 300 miles. Chevy's Ultium battery technology pairs with either a single or a dual motor setup to provide the maximum mileage in the Blazer EV. The electric Blazer will come standard with all-wheel drive and a nine-speed automatic transmission. It is available in rear-wheel and four-wheel drive configurations.
The SS model provides the most horsepower among the Chevy Blazer EV trims. The new Chevy Blazer SS will have the largest, most capable battery pack and offer up to 557 horsepower for your trips around Big Rapids. The RS comes standard as either a front-wheel or rear-wheel drive SUV. All-wheel drive is also available in the RS trim.
The basic Chevy Blazer EV trim, the 1LT, is available in front-wheel drive exclusively. The RS model offers the highest driving range of the Chevy Blazer EV trims, clocking in at 320 miles on one charge. The 1LT offers up to 247 miles of driving range. Mid-level trims offer around 290 miles of driving range.
Safety Features
New Blazer models come standard with various safety features and driver-assist technologies. The Blazer EV features a 10-airbag system, as well as a rearview camera and parking sensors. The Chevrolet Blazer EV is also available with a variety of advanced driver-assist technologies, including lane departure warning, forward collision warning, and blind spot monitoring. These features help drivers stay safe and avoid accidents. The new SuperCruise feature will also be an option in the higher-level trims of the Chevy Blazer EV. Plus, a parking assist feature will be available for drivers in Cadillac.
2023 Chevrolet Blazer EV Technology Features
Chevrolet has announced that its all-new Blazer EV will come with an infotainment system, MyLink operating system, Android Auto, Apple CarPlay, and Bluetooth connectivity. The digital gauge display, measuring 11 inches in diameter, is also available. While there are many touchscreen commands, the Chevy Blazer EV will offer physical buttons and knobs for those who prefer traditional adjustments.
The MyLink operating system is a new Chevrolet infotainment system that will be available in the Blazer. It is a customizable system that allows drivers to access their music, navigation, and climate control settings while cruising around Cadillac, MI. The system also includes a voice-activated assistant that can help drivers with various tasks.
The All-Electric Chevy Blazer EV | Chevrolet
Reimagine what's next in design, performance and technology. Introducing the All-Electric Chevy Blazer EV.
The Chevy Blazer EV will have DC fast charging capabilities. With this feature, the Chevy Blazer EV should charge at a rate of 190 kWh. However, in a pinch, drivers may add around 78 miles of driving range by utilizing the DC charger for approximately 10 minutes. Thanks to the charging versatility of the Chevrolet SUV, you can enjoy long trips around Traverse City.
2024 Chevrolet Blazer Trim Levels and Highlights
The Chevy Blazer EV will be available in four trim configurations: 1LT, 2LT, RS, and SS. The estimated starting prices for the Blazer EV trims range from $44,995 to $65,995 without any additional upgrades or packages selected.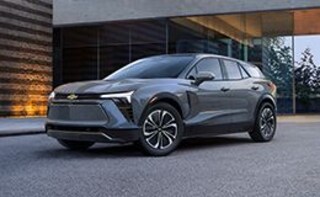 2023
Chevrolet
Chevrolet Blazer 1LT
SUV
Chevy Safety Assist
11-inch Driver Information Center
17.7-inch touchscreen display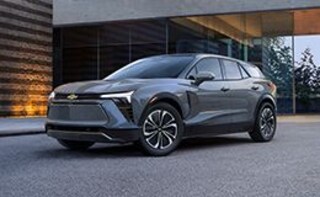 2023
Chevrolet
Chevrolet Blazer 2LT
SUV
Additional battery capacity
A longer range
FWD or optional eAWD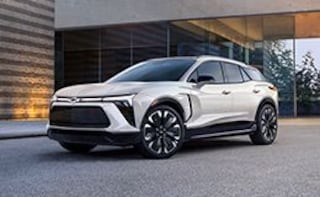 2023
Chevrolet
Chevrolet Blazer EV RS
SUV
21-inch wheels
Black accents on the exterior
Choice of FWD, RWD, or eAWD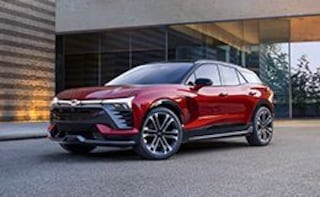 2023
Chevrolet
Chevrolet Blazer EV SS
SUV
22-inch wheels
0-60 mph in under four seconds
Additional driver-assist tech available
The Chevy Blazer EV will be available soon, so head to our local Chevrolet dealership to get all the latest information on this exciting new electric vehicle. Be sure to schedule a test drive of our new Chevy models while you're here!
1. The Manufacturer's Suggested Retail Price includes destination freight charge. Tax, title, license, dealer fees and optional equipment not included. Participating dealer determines final price. 
2. GM estimated range is based on current capability of analytical projection consistent with SAE J1634 revision 2017-MCT.  GM estimated range is based on a vehicle with a full charge.  Actual range will vary based on several factors, including temperature, terrain, battery age, loading, use and how you use and maintain your vehicle. Performance targets. Estimates, and capability specifications based on computer-aided analysis and simulation using virtual engineering tools.  EPA estimates not yet available. 
3. Based on initial vehicle movement. SS trim only. 
4. Whichever comes first. See dealer for limited warranty details. 
5. Always pay attention while driving and when using Super Cruise. Do not use hand-held device. Requires active Super Cruise plan or trial. Terms apply. Visit chevysupercruise.com for compatible roads and full details.